Associations
Phone numbers to the homeschool associations can be dialed directly from smart phones. Just click!
California Homeschool Network
CHN offers homeschool workshops, legislative updates.
If you need assistance, email CHN
or call toll free 800-327-5339
Christian Home Educators Association of California
CHEA offers information and support of Christian home educators in California.
If you need assistance, email CHEA
or call (562) 864-CHEA (2432)
Phone Hours: 11 a.m. to 4 p.m. Monday through Friday.
HomeSchool Association of California
HSC welcomes anyone with an interest in homeschooling.
Facebook page.
Contact Directory
Mailing address: P.O. Box 77873, Corona, CA 92877-0128.
Call for information and support: 1-888-HSC-4440

Events
Posted by People like You in our Homeschool-serving Community
Enter an Event you know about or control. Create and find notifications of homeschool events. Click here.

California Homeschool Group
Join to add events and activities of interest to homeschool families in the announcements above, or to be notified when new events are added. Talk about homeschooling in California. A public forum.
Education Options
March 15, 2014. Free. No registration needed. 1195 Clark St., San Jose, CA. The purpose of the EOE is to empower students in their learning journey by introducing multiple educational experts to parents of PreK12 students in a comfortable environment so that each student reaches the full extent of their unique potential.
CHEA Convention
May 29-31, 2014. Disneyland Hotel, Anaheim. Keynote Speakers Steve and Annette Economides.
CHN's Family Expo
June 19-22, 2014. Torrance Marriott Hotel. Watch for official announcements for 2014 coming soon!
HSC Adventures in Homeschooling Conference
July 31-August 3, 2014. Change of venue! Hyatt Regency Santa Clara, CA. Featured Speaker: Peggy O'Mara.
Disneyland Homeschool Days
Not back to school days in Septembers and Januarys. Join the Disneyschooling Yahoo Group to keep informed. This is a local group that welcomes other homeschool families to their regular "park days" at Disneyland.
LegoLand home School Days
Special Programs! Staff-led, family-friendly education programs available first Mondays monthly during Home School months. Self-guided visits on other Mondays. 2013: Sept 2 – Dec 16; 2014: Jan 6 – Apr 14; May 5-19. Coupon for 10 or more people. Also special discount to Sea Life Aquarium Home School Field trip.
Natural History Museum of Los Angeles County – La Brea Tar Pits Homeschool Days
Fossil Fanatics: Wednesday, October 16, 2013
Astounding Adaptations: Wednesday, January 15, 2014
Bugs and Botany: Monday, April 28, 2014
Pleistocene Predators: Tuesday, June 24, 2014
Parking and Directions.
SeaWorld San Diego
School Programs and Instructional Field Trips
Home School Students. Offered on a select Wednesday each month. October through May. Teachers and chaperones pay the same low rate as students! For Reservations or information please call (800) 25-SHAMU Press 4.
Legoland and Sea Life Aquarium Homeschool Days
Discounted admission rates for self-guided instruction are available for home school families on select Mondays during the school year. Parking is paid for additionally. Walk-up participation-just show your Homeschool coupon! (register for coupon on link). To meet the requirement under 7.(3) for a school ID, modify and print out ID from the template here, if you homeschool independently.
Homeschool Days
CHN's list of special events at Southern California venues, such as Disneyland, Legoland, aquariums, science museums, amusement parks, etc.
CHN's Statewide Calendar of Events
Gives the latest on activities, field trips, & classes for all California homeschoolers.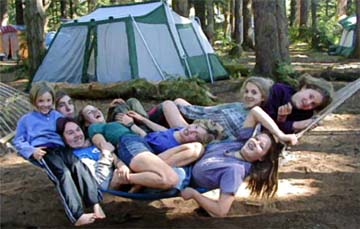 California teens shortly before the hammock broke.
September campout at Patrick's Point with HSC.
HSC Campouts
HSC holds campouts several times a year in various parts of the state, usually in northern California, Bay Area, Central, and Southern. For members only, and the reservations fill fast.
Field Trips
California Field Trips
Educational places to visit in California.
Associations | Events | Field Trips | Publications | Resources
Laws | Legal Information | Private School Affidavit | Legislation Watch
About Charter Schools | Charter School List | Cover Schools | Public ISPs
Online Support | Support Groups| Support Group Lists