Associations
Phone numbers to the homeschool associations can be dialed directly from smart phones. Just click!
California Homeschool Network
CHN offers homeschool workshops, legislative updates.
If you need assistance, email CHN
or call toll free 800-327-5339
Christian Home Educators Association of California
CHEA offers information and support of Christian home educators in California.
If you need assistance, email CHEA
or call (562) 864-CHEA (2432)
Phone Hours: 11 a.m. to 4 p.m. Monday through Friday.
HomeSchool Association of California
HSC welcomes anyone with an interest in homeschooling.
Facebook page.
Contact Directory
Mailing address: P.O. Box 77873, Corona, CA 92877-0128.
Call for information and support: 1-888-HSC-4440

Events
Posted by People like You in our Homeschool-serving Community
Enter an Event you know about or control. Create and find notifications of homeschool events. Click here.
Jul 2014
HSC's Adventures in Homeschooling Conference – Santa Clara CA
Jul/31/14 - Aug/03/14 at Hyatt Regency Santa Clara, Featuring some of the best known speakers in the homeschooling and parenting community, HSC's annual conference is a place to explore, relax, learn and find time to meet with new friends. It's a place where everything you need to know about homeschooling is under one roof for an entire weekend! Inclusive Events
Aug 2014
Meeting Nature Through Miwok Eyes – Lafayette CA
Aug/04/14 - Aug/08/14 at The Lafayette Community Garden and Outdoor Learning Center, This class, to be held at the Lafayette Community Garden and Outdoor Learning Center, will provide an immersion into the abundant world of nature as experienced by the local Native American Tribe, the Saclan/Miwoks. Youth and openhearted adults will live as tribal members adopting Native American names and cultural observances. We will use what nature has provided for tools, meals, clothing and shelter. The last morning will conclude with a tribal sharing of food and ceremony with guests. General Family Events
Open House Montessori Elementary School, Woodland Hills, CA – Woodland Hills CA
Aug/09/14 at Elements Montessori Elementary, The Montessori Elementary curriculum explores subjects like physics, geology, zoology, and history on the child's level. General Family Events
Sep 2014
Camping at Carpinteria Beach California Homeschool Network – Carpinteria CA
Sep/17/14 - Sep/22/14 at Carpinteria State Beach, Camping nights are Wednesday September 17th to Sunday September 21st. Check-in: 2 pm on Wednesday 9/17. Check-out is noon on Monday 9/22. Inclusive Events
Jan 2015
Not Back to School Camp Joshua Tree 9 Nights – Joshua Tree CA
Jan/18/15 - Jan/27/15 at Joshua Tree Retreat Center, Most of our campers are already accustomed to taking a lot of responsibility for themselves, so this works well overall, but some people feel a bit challenged by the open schedule. Other Homeschool Events

California Homeschool Group
Join to add events and activities of interest to homeschool families in the announcements above, or to be notified when new events are added. Talk about homeschooling in California. A public forum.
Disneyland Homeschool Days
Not back to school days in Septembers and Januarys. Join the Disneyschooling Yahoo Group to keep informed. This is a local group that welcomes other homeschool families to their regular "park days" at Disneyland.
SeaWorld San Diego
School Programs and Instructional Field Trips
Home School Students. Offered on a select Wednesday each month. October through May. Teachers and chaperones pay the same low rate as students! For Reservations or information please call (800) 25-SHAMU Press 4.
Legoland and Sea Life Aquarium Homeschool Days
Discounted admission rates for self-guided instruction are available for home school families on select Mondays during the school year. Parking is paid for additionally. Walk-up participation-just show your Homeschool coupon! (register for coupon on link). To meet the requirement under 7.(3) for a school ID, modify and print out ID from the template here, if you homeschool independently.
Homeschool Days
CHN's list of special events at Southern California venues, such as Disneyland, Legoland, aquariums, science museums, amusement parks, etc.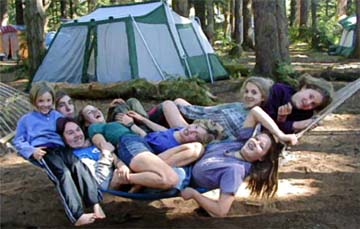 California teens shortly before the hammock broke.
September campout at Patrick's Point with HSC.
HSC Campouts
HSC holds campouts several times a year in various parts of the state, usually in northern California, Bay Area, Central, and Southern. For members only, and the reservations fill fast.
Field Trips
California Field Trips
Educational places to visit in California.
Associations | Events | Field Trips | Publications | Resources
Laws | Legal Information | Private School Affidavit | Legislation Watch
About Charter Schools | Charter School List | Cover Schools | Public ISPs
Online Support | Support Groups| Support Group Lists