This past Tuesday, President Donald Trump ordered an end to the Obama-era program, DACA, that shielded undocumented immigrants brought to the US illegally by their parents when they were quite young. While most are now young adults, some are still of high school age, some are homeschooling, and some are considering homeschooling as a way to maybe hide from I.C.E.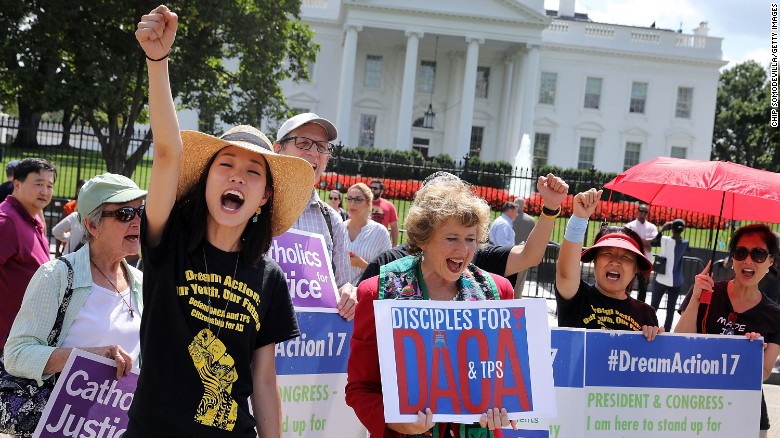 While we generally encourage students to homeschool as independently as is comfortable, DACA students may find that being under the legal protection of a homeschool program the easiest way to provide supporting documents of being "currently in school." Do not sign up for such a program unless they can provide the following:
Evidence from official sources, such as school transcripts, are far more convincing than evidence from less direct sources. Your best evidence to show that you are currently in school may include copies of official:
report cards
transcripts
progress reports
acceptance letters
letters or other evidence from the school describing:

your current course of study, including current grade level
dates of attendance
the name of the school
whether the program is designed to prepare students for future education, training, or employment
the success rate of the program, such as statistics related to exam passage rates, post-program employment, or further education
how long the program has been running
how the program is funded
whether the program is community-based, and
the quality of the program, and

other relevant school records.
The educational and other programs that USCIS has approved for the "currently in school" requirement are very specific. It is your responsibility to submit documentary evidence proving that your school or program qualifies. For example, if you're currently enrolled in an ESL program, you must submit evidence that the program is funded in whole or part by federal, state, county or municipal grants, is administered by a nonprofit organization, or is of demonstrated effectiveness. ~ From Nolo.com
On A2Z we have links to such high quality programs that have provided such services to homeschoolers for many decades. Your best options for finding an online high school that meets these evidence requirements are on these pages:
DEAC Programs
Homeschoolers will find these distance learning programs and home school programs meet tough, public educational standards.
Home School Programs through Accredited Universities
Many state colleges and universities offer accredited pre-college and home school programs. These are of particular interest to those students who plan to also attend one of these colleges after homeschooling.
We have more excellent programs listed on our Home School Programs page. You want to chose a high school program that has been in existence for some time, and has an excellent track record for graduating students. See if the program has received any awards or recognitions for its school. DEAC is such a recognition.
Do not be tempted to sign up for some program that says it can get you through a 4-year high school program in 2 months. That sort of program will not hold sway with USCIS.
If you feel you have mastered high school-level curriculum, you will want to take the GED test at a local center, often a school district's headquarters. Do not be fooled by "Take the GED At Home" websites. These are not a substitute. Before you pay someone for GED Test preparation, check to see if there is a free GED course near you.

Trump Moves to End DACA and Calls on Congress to Act
US citizenship and Immigration Services (USCIS) is holding Naturalization Information Sessions all around the US in the coming days. Look for upcoming local engagements near you.
Keep hoping that this recent development is just a political maneuver to force the legislature to come up with a law that gives immigrants brought here as children a fast and legal way to become a US citizen, and not have to linger in an undocumented status very long.
More About DACA
DACA Toolkit
Resources for Community Partners. To ensure that their deferred action does not lapse, USCIS recommends that current DACA recipients submit Forms I-821D, I-765, and I-765 Worksheet approximately 120 days (4 months) before their 2-year period of deferred action expires.
Consideration of Deferred Action for Childhood Arrivals (DACA)
DACA Has Changed!
We are no longer accepting initial requests for DACA, but we will adjudicate initial requests for DACA accepted by Sept. 5, 2017.
We will no longer approve advance parole requests associated with DACA.
We are only adjudicating DACA renewal requests received by Oct. 5, 2017, from current beneficiaries whose benefits will expire between Sept. 5, 2017 and March 5, 2018.
Deferred Action for Childhood Arrivals 2017 Announcement
All DACA benefits are provided on a two-year basis, so individuals who currently have DACA will be allowed to retain both DACA and their work authorizations (EADs) until they expire. Individuals who have not submitted an application by Sept. 5, for an initial request under DACA may no longer apply. USCIS will reject all applications for initial requests received after Sept. 5.
Letter from Attorney General Sessions to Acting Secretary Duke on the Rescission of DACA
"DACA was e ectuated by the previous administration through executive action, without proper statutory authority and with no established end-date, a er Congress' repeated r ection of proposed legislation that would have accomplished a similar result. Such an open-ended circumvention of immigration laws was an unconstitutional exercise of authority by the Executive Branch."