Free Online Resources with Interesting Facts about the Sun for Kids

We see it rise and set every day. For many of us, when it is out in full force, we smile and have a better day. We love to see the sun because it is a source of life and light and even fun summer activities. Very rarely do we think of the sun as being a star, and even more rarely do we really appreciate the effects the sun has on every aspect of our lives. For kids, the fascination is even stronger. They draw it on the corner of every picture, sing songs about it, and imagine it with a smiley face. How can you find facts about the sun for children? Try these websites, lesson plans, and activities for starters:
Sun Facts for Kids
Here comes the sun! But what IS that great big ball in the sky? There are plenty of free online resources where you can find fun facts about the sun for kids. Here are just a few:
NASA's New Eye on the Sun Delivers Stunning First Images (NASA)
"NASA's recently launched Solar Dynamics Observatory, or SDO, is returning early images that confirm an unprecedented new capability for scientists to better understand our sun's dynamic processes. These solar activities affect everything on Earth."
Smile! It's a sunbeam!
"The sun is not only a source of light, but also a source of life! Even when it seems dark, the sun is still at work, warming our Earth and allowing it to sustain life in otherwise cold space. Without the sun, life as we see it today could not exist. Maybe that is why humans have looked to the sun as an inspiration; a symbol of hope and new beginnings." Explore how the sun affects our mental and physical states, objects around us, and our history.
Solar System Scope
The sun is the center of our solar system and a powerhouse for energy. See how the sun relates to the rest of our solar system with this online model.
Space Place: Sun (NASA)
Discover information, games, activities, crafts, and media related to the sun. This site is NASA's educational outreach for kids.
Stanford Solar Center
Students can learn all about the sun, space weather monitors, the Solar Dynamics Observatory (SDO), and ancient observatories. Also find information about solar music, art, literature, and folklore.
The Sun (NASA)
For your middle and high school kids…. Learn the basics about the sun and then explore the many sun-related topics provided by NASA.
What is a Solar Eclipse? (NASA)
Check out these videos, designed for grades 5-8 and 9-12, that explain solar eclipses through demonstrations.
Sun Lesson Plans for Kids
You can also find full lessons and unit study plans about sun facts for kids. Let the sunshine in at your homeschool with these fun structured lessons:
All about the Sun: Effects of the Sun on Our Planet (Stanford SOLAR Center & NASA)
Check out this unit plan for kids in grades 2-4. Kids will learn about greenhouses and photovoltaic cells, radiant energy, evaporation, and how the sun makes plants grow.
All about the Sun: Effects of the Sun on Our Planet (Stanford SOLAR Center & NASA)
This unit plan for grades 5-8 covers all areas in the grades 2-4 unit plus information about the Earth's Magnetosphere, solar phenomena, the difference between true north and magnetic north, and how solar cells convert solar energy to electricity.
Calculating the Distance to the Sun During a Transit of Mercury (NASA)
Have your student in grades 9-10 use satellite observations of parallax to determine the distance to the sun. In this geometry example, you will use images from the TRACE satellite during the Transit of Mercury. An additional problem is also available using the Transit of Venus.
Features of the Sun
Middle school students draw and label the parts of the sun and then learn more detailed information in order to update their drawings.
Northern Lights and Solar Sprites (NASA)
This is a 13-lesson unit for grades K-6, including the topics of Extending our Senses (lessons 1-5), Exploring a New Frontier of Knowledge (lessons 6-10), and Seeing the Invisible with NASA's IMAGE Satellite (lessons 11-13). Lesson 8 focuses on Solar Activity and Energy, and Lesson 9 focuses on Transferring Energy from the Sun to the Earth.
Solar Storms and You! Exploring the Aurora and the Ionosphere (NASA)
Follow these three lessons, designed for grades 5-8, to learn about A Simple AM Radio Ionosphere Station, Radio Waves and the Ionosphere, and The Aurora.
Solar Storms and You! Exploring the Human Impacts of Solar Activity (NASA)
Find out about the impacts of solar activity on humans in these five lessons for fifth to eighth grade: Solar Storms and Satellites, Cosmic Radiation Creates Unfriendly Skies, Satellite Glitches and Cosmic Rays, Planning a Trip to Mars, and Cosmic Rays and Sunspot Number.
Solar Storms and You! Exploring Magnetic Storms (NASA)
Enjoy a series of three-lessons designed for grades 5-8: Magnetic Storms from the Ground, Motion of the Magnetic Pole, and A Soda Bottle Magnetometer.
Solar Storms and You! Exploring Satellite Design (NASA)
Discover IMAGE Satellite Scaling and Scale Models, as well as pie charts while learning about solar activity in these lessons for grades 5-8.
Solar Storms and You! Exploring Sunspots and Solar Activity Cycles (NASA)
Designed for grades 5-8, this unit contains three lessons: The Sunspot Cycle, Sunspot Activity and Ocean Temperature, and Sunspot Activity on Other Stars.
Solar Storms and You! Exploring the Wind from the Sun (NASA)
This unit is designed for grades 5-8. Explore solar wind with this three-lesson unit: Coronal Mass Ejection (CME) Plotting Activity, Solar Activity and CMEs, and Anatomy of a CME.
The Sun (AAAS)
Check out this lesson on the sun created by the American Association for the Advancement of Science (AAAS). Kids will learn about the sun's structure and features, including solar flares, sunspots, and magnetic fields.
Tracking a Solar Storm (NASA)
Help your student in grades 10-12 track solar storms to determine how Coronal Mass Ejections (CMEs) create effects felt on Earth. When you are done, continue to Part 2.
Sun Activities for Kids
Don't just learn facts about the sun! Add some hands-on fun to your homeschool with some sun-focused activities for all ages:
6 Sun Crafts for Kids
Check out these crafts to get your kids excited about the sun: Sun Catcher, Paper Plate Sundial, Stained Glass Butterfly, Sun-Dried Handmade Tiles, Melted Crayon Window Hanging, and Sun Prints.
Finding the Size of the Sun and Moon
"In this activity, you'll learn how to build a simple pinhole viewer. This apparatus can be used to project images from a variety of light sources. When used to project an image of the Sun, the pinhole viewer can be used to determine the diameter of the Sun."
Macaroni Sunshine Craft
Let your little one practice cutting with scissors while getting excited about the sun. Then have your child decorate the paper sun with colored rice or macaroni. What fun!
Make S'Mores with a Solar Oven (NASA)
Build a solar oven, which is like a super greenhouse, to "cook" your favorite snack!
Making a Sun Clock
Create a sun clock to tell time using only shadows.
Pizza Box Solar Oven
Discover a way to use solar energy. This activity is designed for kids aged 6-12.
Sun as a Star (NASA)
Try these eight activities helping kids aged 5-12 learn more about the sun. Find out about prisms, UV light and sunblock, the way light travels, sundials, sun movement, and the sun as a star.
Sun Paper Plate Craft
Inspire your young child to learn about the sun with this craft made from a paper plate and your child's handprint cutouts.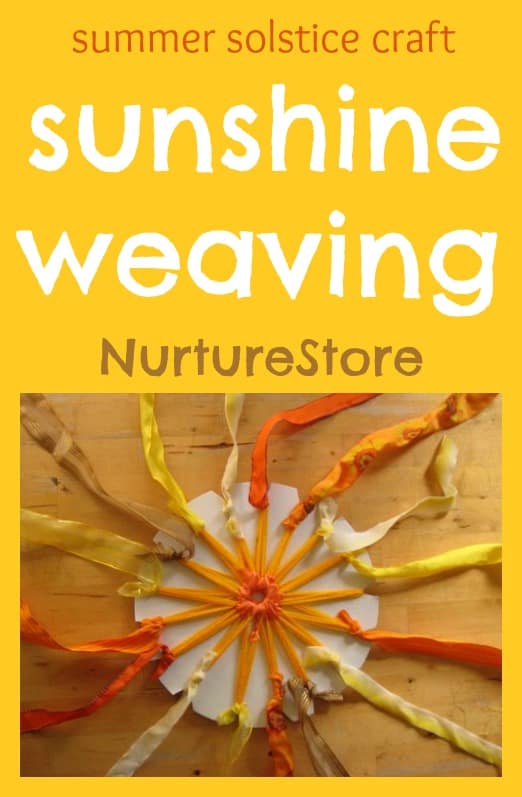 Sun Weaving
Your child can make this entire craft with recycled materials and craft scraps. Your child will be so proud!
 Where Is the Sun?
"With this activity you can verify that the Sun appears in a different location at a specific time every day of the year with one exception. On March 21, the Vernal (spring) Equinox, and September 21, the Autumnal (fall) Equinox, you will find the Sun in exactly the same position in the sky."
Don't forget to check out our other Explore pages on Stars and Constellations!
Have you found another awesome sun website or activity for kids? Please share with your fellow homeschoolers in the comments below….