Home School Support and Social Networks for Filipinos.
Philippines Education Law Applicable to Homeschools
ARTICLE XIV
EDUCATION, SCIENCE AND TECHNOLOGY, ARTS, CULTURE AND SPORTS EDUCATION
Section 1. The State shall protect and promote the right of all citizens to quality education at all levels, and shall take appropriate steps to make such education accessible to all.
Section 2. The State shall:
(2) Establish and maintain, a system of free public education in the elementary and high school levels. Without limiting the natural rights of parents to rear their children, elementary education is compulsory for all children of school age;
Section 4.(1) The State recognizes the complementary roles of public and private institutions in the educational system and shall exercise reasonable supervision and regulation of all educational institutions.
Homeschooling and open universities in the Philippines
Homeschooling is supported by Article IV of the 1987 Philippine Constitution, which decrees that quality education at every level should be made accessible to all Filipinos, including self-learning, independent, and out-of-school study programs.
Philippines Homeschool Events
Posted by People like You in our Homeschool-serving Community
Enter an Event you know about or control. Create and find notifications of homeschool events. Click here.
No Events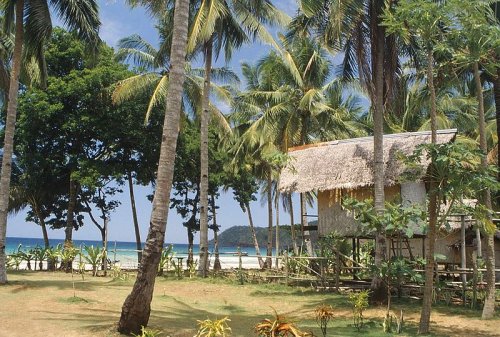 Seaside in Palawan, Philippines
Author: Magalhães (public domain)

Philippines Homeschool Social Networks
The Filipino Homeschooler
Seems to be a lot of resources for those homeschooling in the Philippines. their "About" page is under construction, so not sure who is running this.
Homeschool Association of the Philippine Islands
Welcome to HAPI!
Homeschool Group – Philippines
This group is for home school parents, teachers and students seeking information, support and referrals to home school academic or social activities in the Philippines.
Homeschoolers of the Philippines
A Support Group for Homeschoolers in the Philippines. Contact the Facebook admins about joining.
Homeschooling Philippines
FILIPINO HOMESCHOOLING /
PINOY HOMESCHOOLING
AUTHENTIC HOMESCHOOLING
LDS HOMESCHOOLING
LDS Homeschool Philippines
There might be Filipino Latter-day Saints out there who feel that homeschooling is wonderful. This group serves as an avenue for us to collaborate and share ideas.
Pinoy HomeSchool 3.0
This group is all about spearheading the development of home school learning centers in the Philippines.
Pinoy Homeschooling
This group is not affiliated to any homeschool programs in the Philippines, although some of our members/members' children may be involved/enrolled with any of them.
Pinoy Homeschooling Dads
Filipino homeschooling dads forum and support group.
Philippine Homeschool Resources
Teleios Homeschool Enrichment Center
At Teleios Homeschool Enrichment Center, students can explore and nurture their interests in the fields of music, arts, sports and writing. In Quezon City, Philippines.
For Filipinos homeschooling in the United Arab Emirates
Guidebook explains UAE for Filipinos
ABU DHABI // From information on job contracts to labour rights, the country's Filipino community has an abundance of information at its fingertips thanks to the launch of a guidebook.
UAE Pinoy Homeschoolers
Contact the Admin of this Facebook group about joining.