Speech Therapy Curriculum and Resources to Support Speech-Language Development in Your Homeschooler
Disclaimer: Throughout this series, we will be using the diagnostic language and terms that most people who are searching the Internet will use to find information. We fully understand that using any term to categorize children may result in generalizations that may not apply to every child, stigmas associated with that term, and the possibility of overlooking the many beautiful positive traits that exist when we look at the whole child. We celebrate the differences that make us unique individuals and learners, and we write everything in this series with the hopes of benefiting all children and their families. Resources are provided as options for you, may not represent the views and opinions of A2Z Homeschooling, and in no way are meant to replace medical or other professional advice.
Do you need to focus on speech-language development with your homeschooler? Knowing how to help overcome speech-language difficulties in the homeschooled child is a process, and you probably already have techniques and materials in place. However, every now and then, you may find additional information and resources that can make the speech-language support of your child even more effective. There may be curriculum you haven't considered or supplemental resources that you can add to what you are currently doing. You may also need some consultation or direct services at some point. The good news is that there are resources out there, and many of them are free!
A2Z Homeschooling has done some of the work for you and has collected some resources that you may not have noticed:
*This post contains affiliate links. Things you buy through our links may earn us a commission. Although many of the resources listed here are free, those marked with a $ have a cost or require a fee/subscription in order to access the full range of materials.
Tips for Homeschooling Speech and Language
If you are homeschooling speech and language, and you are not a speech language pathologist, you may need some tips from experts and other homeschoolers doing speech therapy. Here are some resources that may be helpful to you:
Beyond Baby Talk (Second Edition) $
By Kenn Apel, Ph.D., CCC-SLP (Author), Julie Masterson, Ph.D., CCC-SLP (Author)
"A fully revised and updated version of the ultimate guide to language development for parents! Language is about so much more than just words, and healthy communication is the foundation of a child's ability to succeed emotionally, socially, and academically."
Can I Do Speech Therapy at Home? | Homeschool Hideout
Here is where you can find lists and links to 30 apps, books, games, toys, and websites to help you with speech therapy at home.
Homeschooling Children with Apraxia: Where Do I Start? | The Homeschooling SLP
Explore the advice and experiences from this SLP who also homeschooled her son with apraxia.
Partners in Speech, Language, and Hearing: A Guide for Parents and Caregivers of Babies and Young Children $
ASHA (Publisher)
"Children learn speech and language from listening to and interacting with the sounds and voices around them. This bilingual illustrated book (English and Spanish) gives parents and caregivers activities that will promote a child's communication skills development. This book is broken into three sections: babies, toddlers, and young children. Each section provides simple, age-appropriate ways that parents and caregivers can stimulate the child's speech, language, and hearing."
SLP Podcasts | Speech and Language Kids
Speech therapist, Carrie Clark, CCC-SLP, offers a series of podcasts where you can listen to her explain speech and language issues and how to help them. If you like to read rather than listen, you can also access her blog, or you can subscribe and receive free speech therapy resources and activities sent directly to your inbox!
The Speech-Language Pathologist and Homeschooled Clients: An Overview of Practice Strategies | Miracle Kids
Read this overview of options homeschool families have for providing speech therapy and supports.
Speech-Language Therapy | My Sweet Homeschool
This speech-language pathologist shares ideas "to help you in your homeschool journey, and to help your children increase speech and language skills."
Speech Language Therapy & The Homeschooler | Hip Homeschool Moms
Kate Brighton is a speech language pathologist turned homeschooler who shares her recommendations on how to decide whether your homeschooler needs speech therapy.
Speech Therapy for Homeschooled Children: What You Need to Know | Homeschool.com
Guest author, Leanne Sherred, MS, CCC-SLP, shares suggestions for when to use speech therapy and how to provide effective speech therapy from home.
Talking on the Go $
By Dorothy P. Dougherty, MA, CCC-SLP (Author), Diane R. Paul, Ph.D., CCC-SLP (Author)
All parents and caregivers, no matter how busy, want to provide their children with the most stimulating environment for learning and using language. Talking On the Go is loaded with everyday activities to enhance speech and language development.
Homeschool Speech Therapy Curriculum
Many homeschoolers rely on curriculum as the backbone of their homeschools. When you homeschool speech language, you may be looking for a homeschool speech therapy curriculum that directly teaches speech and language skills, or you may be looking for an academic curriculum that is flexible and supportive enough for your child to engage with content effectively while working directly on speech and language in other ways. Here are a few examples of curriculum that may work for your family: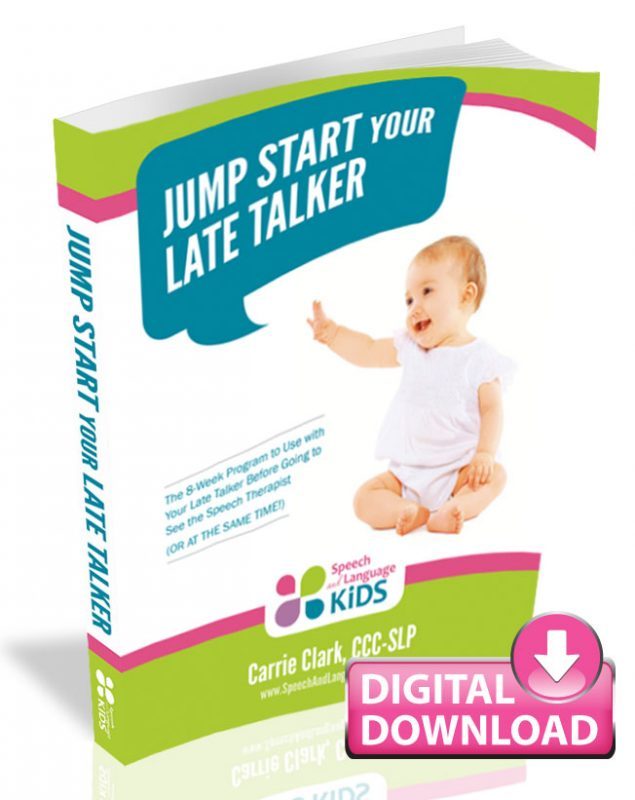 Jump Start Your Late Talker eBook $
By Carrie Clark, CCC-SLP (Author)
"This 8-week program will show you what you can do at home to help jump start your late talker. Includes language stimulation techniques along with vocabulary activities that will strategically tempt your child to say new words." The program is designed "for children who say fewer than 50 words and aren't yet putting two words together to form short phrases."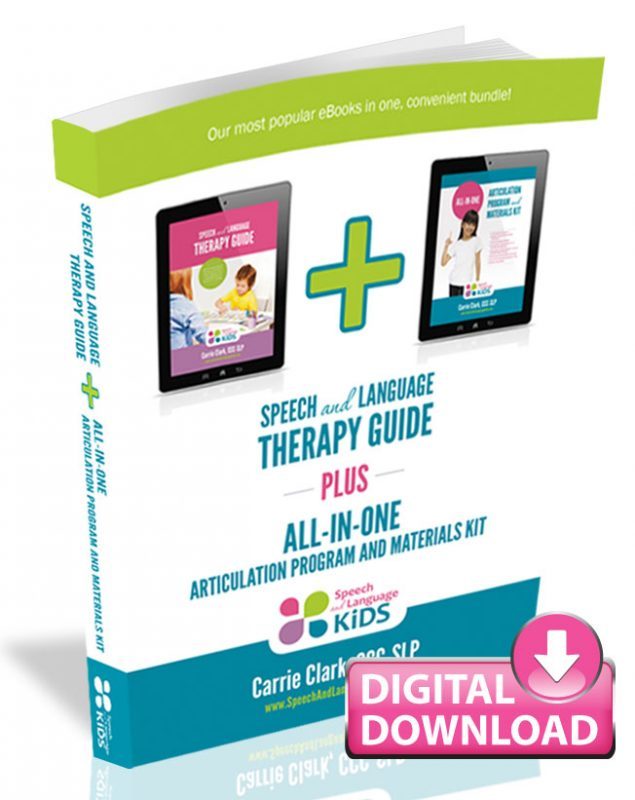 Speech and Language Therapy Guide PLUS All-in-One Articulation Program and Materials Kit eBook $
By Carrie Clark, CCC-SLP (Author)
This package contains two speech-language products: "Mini-Programs for 39 different speech and language skills (lessons, worksheets, handouts, etc.) along with all of the materials and steps you need to do articulation therapy for any English speech sound." The guide is designed "for children who say more than 50 words but are having trouble creating complete sentences and/or using language throughout the day" while the kit is designed "for children who have trouble pronouncing certain sounds."
Super Star Speech Program $
"The Super Star Speech program was designed by a speech-language pathologist to help parents and children work with speech sound problems at home. The manuals are clearly written, easy to use and free of technical jargon. If you suspect or know that your child has an articulation disorder and you are willing to work with him or her consistently for a short time each day, I think you will find Super Star Speech to be an invaluable resource!… Super Star Speech is designed to be used with children ages 3 and up who have a speech delay. It is ideal for use in a homeschool setting."
Time4Learning $
Although not a speech-language curriculum, per say, you may find its flexibility and supportive features helpful for your child's learning of academic content while language skills are still developing. "Time4Learning is a great homeschool and after-school partner because it offers each child their own learning path, with animated lessons, interactive activities, unit assessments, and integrated printable worksheets for reinforcement." Time4Learning may be especially beneficial to students with speech-language difficulties, including Central Auditory Processing Disorder (CAPD) because "the Time4Learning curriculum:
Proceeds at the student's own pace.

Teaches with uncomplicated sounds and clear graphics.

Allows placing the child at different levels for different subjects, as needed.

Works with a variety of learning styles.

Encourages kids to become active learners through exploration and discovery.

Introduces new learning opportunities in a safe, supportive environment.
Homeschool Supplemental Resources for Speech-Language Support
Even if you embed a speech-language focus in your curriculum, you may need additional resources to supplement learning of speech and language skills for your homeschooler. Below are some items and resources where you can find materials as additional support:
Everybody Needs a Turn: A Book for Brothers and Sisters of Children with Speech and Language Disorders $
By Denise Underkoffler, MA, CCC-SLP (Author), Lindsay Dale-Scott (Illustrator)
This book can be used by parents, speech-language pathologists, and educators as a springboard for more conversations. It includes a section of helpful and practical communication tips for the whole family. Discussion starters help children understand and communicate their feelings.
Let's Talk Today! A Calendar of Daily Activities for Teaching Language Skills at Home $
Designed for speech-language pathologists to use with families, this kit provides 400 interactive activities "to help children develop the critical language skills expected of young children ages 3 to 7. It is not only for children who are achieving typical language milestones but also for those who may have a delay or disorder."
Noun Vocabulary Builder Flash Cards $
"Six sets, 50% more cards: Emotions and Feelings, Matching Go Togethers, Nouns, Opposites, Prepositions & Verbs in this flashcard gift set. Ideal for all types of students from toddler to adult. Promote clearer communication, critical thinking skills, sequencing, verbal concepts, conversation, reading and development. Suitable for parents, teachers, schools and therapists."
Phoneme Phone $
"Build phonemic awareness: Students speak softly into the "receiver" and hear their amplified voice directed into their own ear…. When working on phonemics at any age, our phone is an essential tool to improve speech."
Remedia Publications $
"At Remedia, we know that "one size does not fit all." Our mission is to provide materials to teachers, speech pathologists, curriculum specialists, and even parents who educate students with special needs and learning differences, as well as students struggling in regular education and intervention settings." Check out the collection of materials related to speaking and listening skills.
Sentence Building Fun Deck | Speech Therapy Flash Cards for Grammar $
Try these 56 colorful, illustrated cards with four levels of sentence prompts. Help your child understand sentence structure while practicing language. Also included are game ideas and sample sentences.
Speech-Language Products | The Dabbling Speechie $
Browse these products that range from conversation scripts to visual supports to sentence activities and other learning tools.
Speech-Language Products | Teaching Talking $
Explore this collection of speech therapy activities, worksheets, BOOM! Cards, language notebooks, and so much more!
Speech Sprouts $
Find products collected by Lisette Edgar, SLP, to help your child with articulation, receptive language, social skills, vocabulary, and other skills.
Speech Therapy Homeschool Resources | Pinterest Collection by SPED Homeschool
Check out this collection of "resources for homeschool speech therapy lessons."
Super Duper® Publications $
Find products here that are specifically designed to help with speech-language difficulties.
Homeschool Programs for Speech-Language Support
As a homeschooler, you are trying to provide a service to your child that may have ordinarily been provided by your school district. However, you still have options, and there are individuals and organizations that can help. These are just a few:
Brain Sprints $
Brain Sprints provides in-home training for auditory processing. "After an in-person or video evaluation is conducted, an individualized NeuroDevelopmental plan is created. The details of implementing the plan are taught to the parents via a web-training site. Parents across the United States, or someone they choose, facilitate the activities five days a week with the child while unparalleled support is given through email, phone and bi-monthly teleconferencing."
Firmly Planted Homeschool Resource Center $
"The Firmly Planted Homeschool Resource Center is host to a wide variety of specialists and professionals who are eager to help you with your homeschool journey! From private consulting to therapy sessions, we've got you covered!" Specialists are available for special education consultation and support, occupational therapy consultation, speech therapy consultation, and homeschool life coaching.
Learn Differently $
"Wondering how to adapt homeschool for children who learn differently? If your children have dyslexia or other learning disabilities, ADHD, autism, or other challenges, Kathy can give you practical advice to keep you going and work smarter, whether you're considering homeschooling or have taught your own kids or teens for years." 
Speech Therapy at Home: You Have Several Options! | Learning Abled Kids
Learn about public school speech therapy programs, private speech therapy programs, and speech therapy at home program options.
Free Homeschool Speech-Language Homeschool Resources
Whether you are stretching your homeschool budget or not, free is always good! We have found some no-cost resources to help you in your speech-language homeschooling journey. Check out these sites as a start:
Free Speech Therapy Materials | Speech and Language Kids
Browse the collection of free materials, including speech therapy activities, articulation homework programs for specific sounds, articulation cards, question games, and so much more!
Free Speech Therapy Resources | Teachers Pay Teachers
Discover free language skills building materials, including question cards, visual recipes, matching games, language units and PowerPoints, and more.
Free Speech Therapy Worksheets | Mommy Speech Therapy
Heidi Hanks, MS, CCC-SLP, has created a series of worksheets and other downloads that are "intended for use in your home or therapy setting to help your child."
Home Speech Home
This is a great resource for information, word lists, activities, and apps.
How To Help Late Talkers: Activities for Parents and Caregivers | Speech Pathology Master's Programs
Tips and activities parents and caregivers can use to help children communicate.
Language Builder® App | Stages Learning
"The Language Builder App from Stages Learning is based on the Language Builder Picture Noun Cards, Sets 1 & 2, which are used by BCBA's, SLP's, teachers, and parents to teach basic language skills to children with autism or related developmental challenges."
Songs for Pre- and Emerging Verbal Learners | Coast Music Therapy 
Check out these five free songs to help encourage your child to practice their speech. 
Speech2u Freebies | Teachers Pay Teachers
Find lots of fee activities, stories, word lists, jokes, holiday-themed games, and more.
SpeechBox for Speech Therapy App
"SpeechBox™ is an Award Winning iOS and Mac app designed to work with children with apraxia of speech, Autism, Down's Syndrome, and other speech language disorders. Parents, educators, speech therapists, etc. can work with children and practice speaking simple words in a beautiful interface with engaging colorful pictures."
Speech Therapy Activities | Speech TX
Find "free activities to motivate and engage children to learn speech, language, and communication skills." Categories include language, literacy, AAC, and articulation.
If speech-language support is a focus of your homeschool, there are many resources available to help. You do not have to do this alone. Remember that every moment can be an opportunity to build language skills, and you can certainly have fun doing it!
Check out our Homeschool Speech Therapy page for suggestions by guest expert, Dr. Linda Kennedy, as well as our Special Needs section for even more ideas! 
Have you found the best homeschool curriculum for speech-language support or know of other teaching resources for families who are homeschooling kids with speech-language challenges? Please share your comments below….